GET OUT OF DEBT TODAY!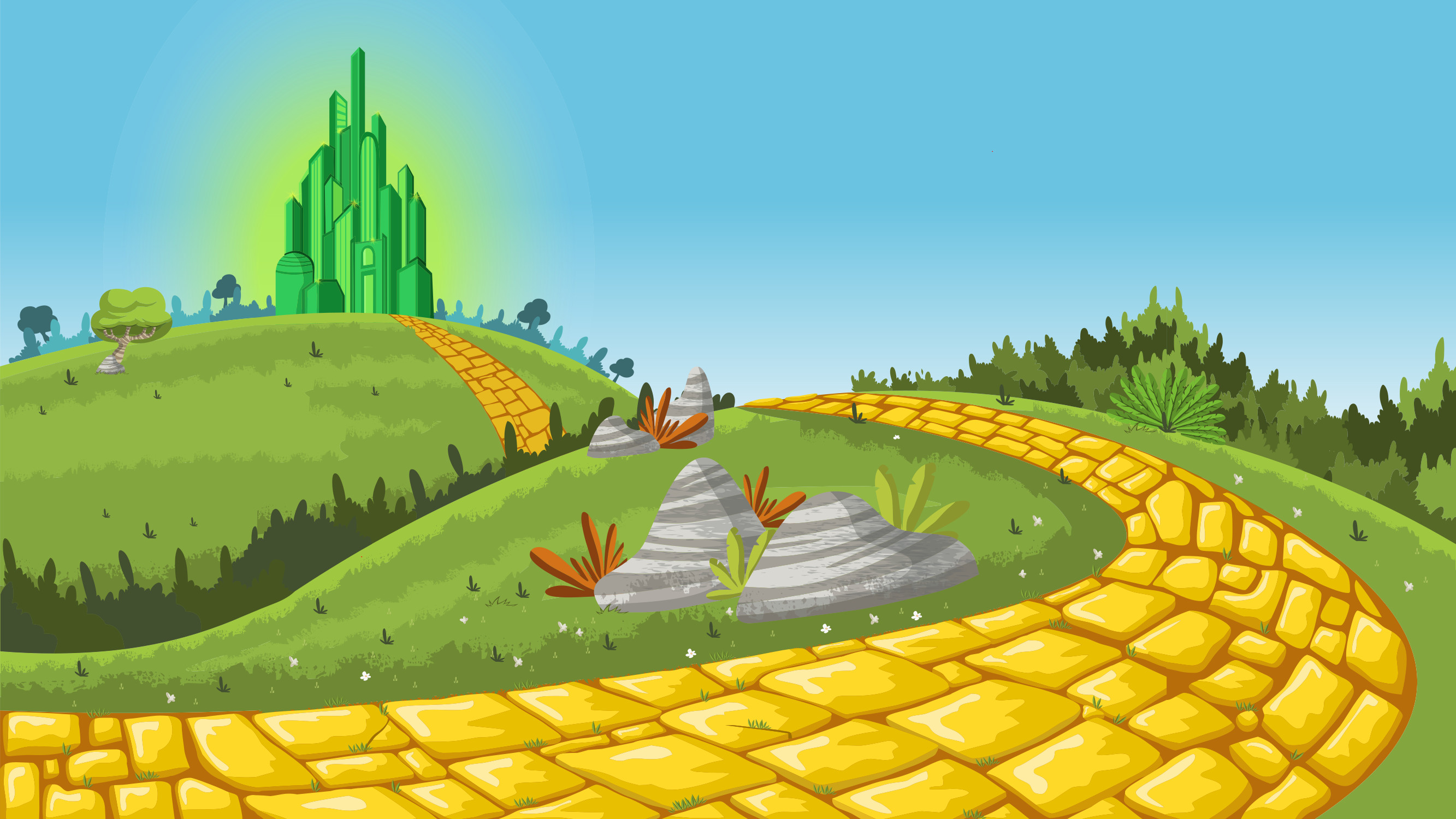 "Just Follow the Yellow Brick Road"
When Dorothy woke up in the Land of OZ she felt lost. All she wanted to do was go back home to Kansas. In order to get home Dorothy needed to follow the yelow brick road. It was her pathway home. Geting out of debt is similar. Like Dorothy, you have found yourself in a place you don't want to be, the land of debt. And you want to get somewhere else, the land of no more debt. You need a plan. And you need determination. You need path that will take you from where you are to where you want to be. ZilchWorks gives you that path. You need to supply the determination.
With the simple click of a button, we take your debt information and build you, your very own yellow brick road. Each brick in the road represents a monthly payment. These bricks are strategically placed to get you out of debt as fast as possible. And, save you a lot of money in unpaid finance charges. All you have to do is follow the yellow brick road and make each payment along the way.
What happens if I mess up and stumble along the way?
That's a good question. It's pretty simple to get back on track. You simply make changes to your information and push a button. Our software creates a brand new monthly payment schedule using your updated infomation. In essence, we tear up the first yellow brick road we built and create a new one. It's up to you to hop on and follow the yellow brick road.
There's no limit to he number of times you can do this. Things happen and situations change. This is your life. It's up to you. We are here to help.
Would you like to be out of debt in 18-24 months?
Our Zilch Standard software takes all of the details about your debts such as:
interest rates
currents payments
outstanding balances
etc...
and instantly turns everything into a step-by-step monthly debt management plan.
Use the "Dial-A-Date" feature and pick a
Debt Free Date
18 months away.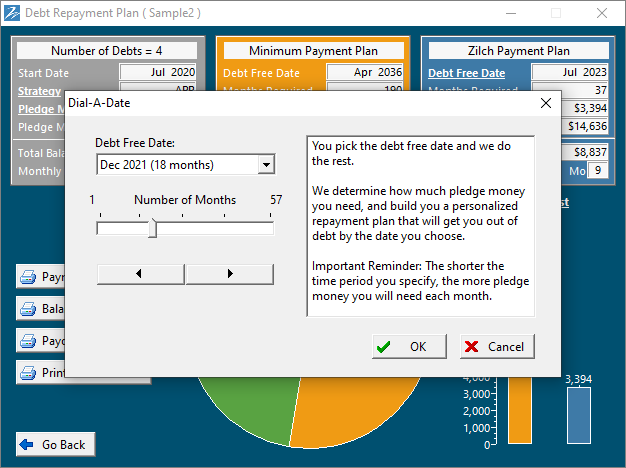 Do you want to save a ton of money in credit card finance charges?
Our debt deduction software analyzes your debts, determines the most efficient way to pay them off, and produces a personalized debt repayment plan that saves you a ton of money. By following your personalized debt repayment plan you will save thousands of dollars in interest penalties.
This is real, hard-earned money. This is your money. This is money you are currently giving away to creditors for no reason.
Pledge Money is the extra money (if any) you can apply toward your debt repayment plan each and every month. The more Pledge Money you use, the faster you will get out of debt and the more you will save in unpaid interest penalties.
While adding Pledge Money does make a difference, it is not necessary for you to have any extra money to make this program work for you.
Would you like a renewed sense of hope and excitement?
Because you instantly see your actual debt-free date, there's a wonderful feeling of hope that comes over you. Hope that immediately turns into belief. A belief that's strong. Why is that belief so strong, because there really is a light at the end of the tunnel. You can see it. You believe it. You know you will get out of debt soon. Now that's exciting.
You have a plan to get out of debt on a specified date
You know how much to pay every single creditor each month
You will make it happen
Guaranteed assurance of absolute and complete privacy!
Your personal and financial information are never shared with anyone! That's right. You purchase our debt reduction software and download it to your computer. What you do with our software from that point on is entirely up to you.
No communication goes back and forth across the internet
No one will ask you for information
No one sees your financial data unless you give it to them
Finally, you can take advantage of trade secrets used by many expert financial counselors in the privacy and comfort of your own home.
❝You'd think someone with a Finance degree would be able to avoid debt❞

You'd think someone with a Finance degree would be able to avoid debt, but my husband and I hadn't avoided it. I had quit working to raise our family, and two of our children had major medical bills. We found ourselves in over $80,000 of mostly unsecured debt. I was desperate when I found ZilchWorks. Your software was like a ray of light shining in on our dark situation.

When I SAW, that we could be debt free by 2011, even though that was years away, it was just the motivation I needed. The printed reports have been vital in our success. They keep me on track when I am tempted to spend money I shouldn't be. I keep them handy so I can glance at them and remind myself where we are headed. The idea that we will have financial freedom THIS YEAR is exhilarating!

I now have the desire to help others get out of their debt situations, so I am happy to tell the world that ZilchWorks can get you there. And by the way, this is a "paid" testimony... we've been "paid" all the interest that would have been shelled out to lenders had I not found this program.

I pray we never find ourselves back in the credit card mess we were in. But if for some emergency we do, I will have the tools ZilchWorks taught me to get us out of it!

Lovina Penry - California
Buy Now
Try Now
How it Works?
Requires Microsoft Windows


zilchworks.com is owned and operated by Michael J. Riley, a retired United States Marine Corps Gunnery Sergeant. Riley's easy to use Zilch software has been helping people get themselves out of debt since 1991.
"Zilch does one thing and does it very well.
It gets you out of debt."